Safety and Efficiency in Food & Beverage with RTLS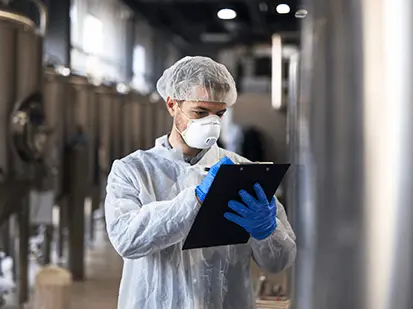 Objective:
Our client, one of Turkey's leading dairy and dairy product manufacturers, operates on a 120-acre site with over 39,000m² of indoor facilities and more than 1,600 employees, with 35 warehouses across Turkey. With this extensive production facility and warehouse network, they aimed to enhance workplace health and safety and make their operations more efficient. Our project, conducted in this context, involved the precise tracking of employee locations and their seamless integration into business processes, resulting in significant gains in both productivity and workplace safety.
Number Of Assets
289 anchors
54 gateways
2803 personnel tags
88 tag charging station
Key Challenges:
Giant Metal Tanks: The large and metallic surface of storage tanks can interfere with precise location tracking technology, causing signal transmission issues.
Integration Challenges: The need for software integration to accommodate the use of existing time and attendance system cards alongside personnel tracking tags and hybrid tag usage.
Logistical Challenges and Simultaneous Deployment: Simultaneously bringing the production facility and nearly 35 warehouses into operation presented logistical challenges.
Expected Outputs:
Precise Employee Location Tracking: Ensuring employees are tracked with sub-meter accuracy to enhance workplace safety.
Reduced Workplace Accidents: Minimizing workplace accidents by monitoring employees in compliance with health and safety standards.
Improved Operational Efficiency: Speeding up business processes through the integration of automated entry and exit data.
Geographical Tracking and Floorplan View: Simplifying business management by displaying real-time geographical locations of personnel on a map.
Reporting: Providing authorized personnel with the ability to generate retrospective reports using RTLS software to better manage workplace safety enhancements.
Solution:
The project made use of UWB-based active RFID technology. The Wipelot project team performed a thorough field analysis of the manufacturing facility, identifying areas with high metal density and developing tailored solutions for these areas. Following the completion of the anchor installations, location tests were performed, and discrepancies were identified and corrected when compared to actual positions. This process, which included the production facility and over 30 warehouses, was completed in a record-breaking two months.
The personnel cards used in the existing personnel attendance control system were integrated with UWB tags, making it possible to calculate both the scoring data and the location of the personnel with a single card. In addition, integration with the PKDS software was achieved and the entry and exit information of the personnel to and from the warehouses was automatically transferred to the system.
The project also introduced innovations on the software side. Authorized personnel were equipped with the ability to generate retrospective reports on alarm data, providing details such as alarm type, region, personnel information, date, and time. The real-time tracking of personnel in different locations was facilitated by displaying their positions on a geographical map.
BENEFITS:
In conclusion, the implementation of the project enhanced employee safety while effectively monitoring the entry and exit of field personnel, automatically integrating this data into the T&A program. As a result, business processes were made more efficient.
Why Choose Wipelot RTLS Technology?
Since its establishment, Wipelot has been focused on developing efficiency and safety solutions for the workplace. For more than 16 years, we have been helping companies protect their employees with the solutions we have offered, and we are continuing to improve our technology with the experience we gain in the field.
Wipelot is a member of Omlox, UWB Alliance, and FiRa Consortium, which brings together technology companies that produce 100% of their own hardware and software systems and develop solutions with ultra-wideband technology (UWB), and has been listed among the fastest growing technology companies of TOBB 100 and Deloitte Technology Fast 50, and has received many awards in the field of industrial IoT in Turkey and abroad thanks to its projects.