RFID Journal 2023 2nd Prize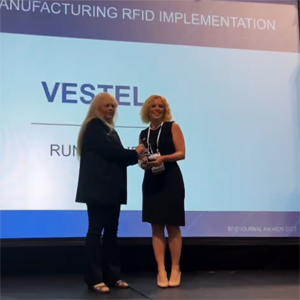 We are thrilled to announce that our collaborative project with Vestel has achieved remarkable success at RFID Journal 2023. Our project, aimed at enhancing productivity at the Vestel plant, has been awarded the prestigious second prize in the "Best Manifacturing RFID/IoT Application" category.
RFID Journal 2023, renowned for its introduction of innovative products and its role in showcasing the latest trends in the RFID industry, attracted a diverse range of participants. During the conference, our esteemed product manager, Damla Toros Çağlar, presented the Vestel project as an exemplary demonstration of our solutions making a significant impact in the industrial sector.
This recognition at the RFID Journal Awards 2023 reaffirms our commitment to delivering cutting-edge solutions and driving advancements in RFID/IoT technology. Our collaborative efforts with Vestel have enabled us to achieve great results, enhancing productivity and efficiency at their plant.
We extend our gratitude to the organizers of RFID Journal 2023 for providing a platform to showcase our achievements and the esteemed panel of judges for recognizing our project. This accomplishment would not have been possible without the dedication and hard work of our team members and the unwavering support of Vestel.
ou can find the details of the project in our success story.