WIPELOT at 19th World Work Health & Safety Fair 2011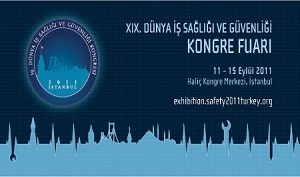 19. World Work Health and Safety Congress Fair (İSG) with cooperation of Ministry of Employment and Social Safety (ÇSGB), International Employment Organization (ILO) and International Social Safety Union (İSSA) will be organized between 11-15 September 2011 at Golden Bay Congress Centre.
Since the year 1955 revised every three years 19. World Work Health and Safety Congresses (İSG) will be realized in Turkey in the year 2011. First one executed in Italy, Rome, 18th one realized in the year 2008 in South Korea Seoul and gathering all parties working related to the subject enabling to exchange knowledge, allowing new approaches to be emerged pertaining to preventing professional illnesses and work accidents the mentioned congress constitutes the most important and biggest activity executed in that topic.
İSG Fair which will be organized simultaneously with World Work Health and Safety Congress aims to reflect the industry's status via amazing speakers and subjects.
Okyanus Teknoloji will share the innovations and developments at Wipelot product family with the visitors at its E131 number stand. Primarily it aims to be concentrated on Wipelot ISG product introductions and to establish new business cooperation with innovative and technological solutions.
By that way we invite all related parties to İSG Fair which will be actualized in İstanbul.