We are taking our place in Win Eurasia 2022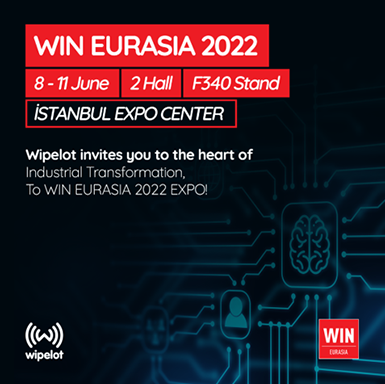 We are taking our place in Win Eurasia 2022 with our advanced RTLS solutions with UWB infrastructure.
Win Eurasia 2022, the leading expo of the industry highly anticipated by the followers of Industry 4.0 and 5G technology, will be held at İstanbul Expo Center between June 8 – 11. As Wipelot, we are ready to introduce our technologies, which we developed as an R&D center in the fields of RTLS and industrial IoT, to our visitors.
As one of the fastest-growing technology companies in Turkey, we will present our systems and products that we developed with real-time location systems (RTLS) and industrial Internet of Things (IoT). Our visitors can inspect on-site our EAGLEEYE Motion and EAGLEEYE Sense series systems, which were realized for thefirst time in the world with the collaboration of Wipelot and Cisco, and which offer secure Wi-Fi connection infrastructure and UWB based real-time location technology together.
In addition, our experienced team will be expecting our visitors to inform them about all innovations and developments related to our Safezone Forklift Tracking and Collision Warning System, safely used by many industry-leading companies in Turkey and the world for occupational safety and efficiency.
Our visitors will have the opportunity to inspect all these systems on-site, and to experience the demonstration of our real-time location technology with Lotus RTLS software. You can find us at Hall 2, Stand F340 between June 8 - 11 to inform you in detail about our systems and projects, which are used safely, especially in warehousing, logistics, intra-logistics, mining, and manufacturing, and were granted many awards.
Please visit the following links to get an online invitation to the expo.
Visitors
|
Ziyaretçiler