AHK Turkey Welcomes Wipelot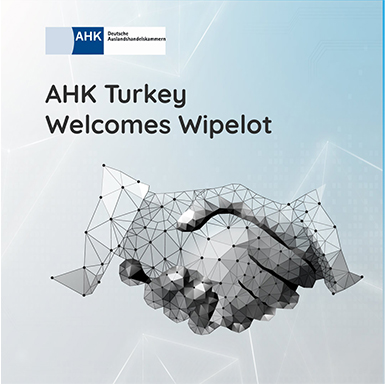 Wipelot, a global industrial IoT technology company with a worldwide presence, has recently joined AHK Turkey's network. AHK Turkey, founded in 1994 by the Association of German Chambers of Commerce and Industry (DIHK) and the Union of Chambers and Commodity Exchanges of Turkey (TOBB), is a link between the German and Turkish economies. It is one of Turkey's most important foreign trade missions, assisting a solution partner in promoting company cooperation and expanding economic relations.
Wipelot has also joined the AHK Turkey
As a leading technology company in the field of industrial IoT with the title of R&D center, Wipelot provides services to ensure safer and more reliable workplaces. The company strives to develop advanced technology products with its global business partners and completes various projects utilizing real-time location tracking technology. Wipelot is also a reliable technology provider for many enterprise corporations.
Wipelot continues to expand worldwide
Wipelot has won global awards in industrial IoT and will continue to expand its worldwide partnerships. The company will continue to develop advanced technologies through business partnerships with German companies and plans to grow steadily by expanding its products and services in collaboration with AHK Turkey, which has a network of relations with German-Turkish companies.
About Wipelot
Wipelot, a technology company founded in 2005, provides industrial IoT software, hardware, and consultancy services in real-time personnel, equipment, and environment monitoring, which forms the foundation for digital transformation. The company conducts research and development, design, and manufacturing activities in industrial IoT, RTLS, RFID, and UWB and manufactures 100% of its products. Wipelot stands out with its real-time tracking technologies that provide efficiency, speed, and occupational safety in the digitalized business processes of the major industrial establishments in the Fortune 500 and offers substantial added value for the industrial branches such as automotive, home appliances, metallurgy, energy, food, health, pharmaceuticals, cosmetics, and textile, as well as many different sectors such as mining, construction, aviation, and defense. Wipelot carries out analyses using the real-time data received from the field and provides efficiency and occupational safety with the instantaneous tracking of personnel, vehicles, heavy-duty machines, equipment, and semi-products and the monitoring of values such as temperature, humidity, gas, and light in risky work environments. Wipelot is a member of Omlox, the UWB Alliance, and the FiRa Consortium, which brings together technology companies worldwide, producing hardware and developing solutions with Ultra Wide Band Technology (UWB).