Lone Worker Safety Solutions in Industry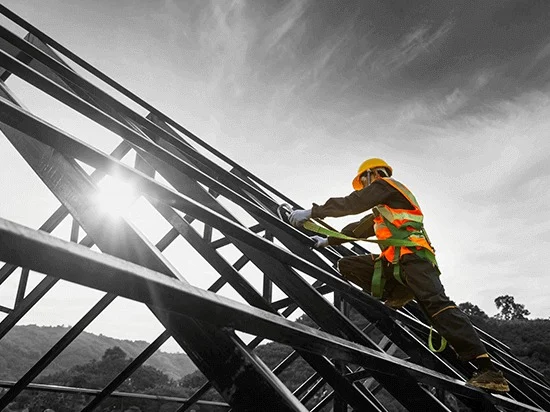 How Should You Ensure Employee Safety in High-Risk Work Environments
Whether in an office or a large production facility, safety comes first in workplaces. Especially in industrial production areas, mines, construction sites, industrial personnel should be wary of their own as well as their colleagues' safety above all else. In the industrial sector, there is a huge portion of employees who have to work alone due to their nature of their work. These employees who are collectively referred to as lone workers exist in a wide range of professions ranging from hotel cleaners to miners and construction workers.
What Counts as a Lone Worker?
The "lone worker" concept can be defined as a person who can only perform his or her function in isolation, without a colleague present in their visible or audible range. There is a substantial amount of people working alone in an oil plant, a construction site, high altitude, industrial settings, or confined and closed spaces such as mines. Being able to accurately locate the location of lone workers does not ensure their health and safety. When the employee encounters a situation that threatens his or her health or life safety, they can report the situation to the necessary authorities with wireless or GSM-based communication tools. However, technologies need to expand their range so that they can function in exclusive situations where these systems are inefficient or not functional, such as when the employee loses consciousness, or cannot move. Such technologies should have the capacity to send an emergency call from the conscious or unconscious employee should there be a risk to their overall wellbeing. These systems are integral for occupational health and safety.
What are the Most Prominent Personnel Security Solutions in the Market
Real-time locating system (RTLS) is a technology that identifies people and devices within a specific area and instantly tracks their location. These systems can be established over multiple radio frequency-based communication protocols such as ultra-wideband (UWB), WiFi, Bluetooth (BLE), RF, infrared. However, when it comes to occupational health and safety, the most prominent of these systems is ultra-wideband (UWB) technology. This system produces more accurate information through instant location tracking with accuracy at the centimeter level compared to other protocols. Low energy consumption and high bandwidth make UWB technology stand out compared to other radio frequency technologies.
The system works through wearable tracking devices connected to local receivers for precise positioning. These trackers have an emergency button that employees can press whenever they need help. Also, devices equipped with inactivity and free-fall sensors automatically send a help signal to the control center when the employee is stationary for a long time or when they detect a free fall from a height of more than a few meters. With the precise location tracking provided by the UWB, the instant appearance of the employee's position in the system with centimetric accuracy shortens the immediate response process after the accident and prevents the loss of life and property.
Moreover, since these tracking devices are intelligent and programmable, they are also used in personnel attendance control and monitoring systems. It can collect all the data required for personnel movements such as continuous monitoring within the facility, the collection of entrance and exit information to the facility, and the violation of prohibited areas.
Where Do High-Risk Work Environments Cover?
Closed/confined areas (mines, storages, liquid tanks, production facilities, culverts)
High altitude areas (transmitter towers, bridges, dam, construction, shipyard, hangar)
Areas where chainsaw and hot equipment are used
Environments where environmental parameters such as gas, temperature, pressure are at dangerous levels
Environments where there is close contact with electricity and other types of energy
Lone worker protection
Communication Between Personnel
Working areas differ in sectoral and regional respects. Consider a mining gallery, a tower or bridge hundreds of meters high, a liquid tank, areas where environmental parameters such as gas, temperature, pressure are dangerous... Correct selection of communication tools to be used in these areas, and ensuring minimum communication loss is of utmost importance for the safety of employees. It is necessary to pre-test all communication tools and to determine certain procedures such as communicating with working personnel at certain intervals and checking the situation.
Importance of Location-Based Focus for Lone Workers;
Some work areas are considered isolated areas, especially when warehouses, mine galleries, or shipyards are considered. Thus, access procedures need to be evaluated. It should be determined whether there is an accessible location should there be the need for first aid. It should be ensured that there will be no problems in the continuity of basic needs such as adequate oxygen level, nutrition, and water during long working periods. Also, the values of the ambient parameters (gas, temperature, pressure, etc.) should be taken into consideration, and the necessary protective equipment and communication devices resistant to ambient conditions should be preferred. Risky situations such as animal attacks and poisonous bites are among the factors that should be evaluated within the conditions of the workplace.
Competencies of Solo Personnel
The most important safety precaution is the competence of the lone personnel regarding their work. A person must have sufficient experience and training to be able to work safely alone. The main factors such as knowing the conditions of the working environment, competence against the equipment, awareness of the risk level of the environment constitute the basis of security measures. It is necessary to have information about the control and conditions of security equipment, to have sufficient experience and foresight about what kind of risks the malfunctions in this equipment will pose.
Lone worker safety devices
Sensitive geolocation technologies for personnel who are unable to make emergency calls that may occur as a result of unexpected accidents despite all these precautions play an important role in protecting the lives of those working alone and in risky areas. You can contact us for more information about free fall and inactivity sensor wearable smart device technologies.
lone-worker-safety-solutions-in-industry