What is RFID technology and how does it work?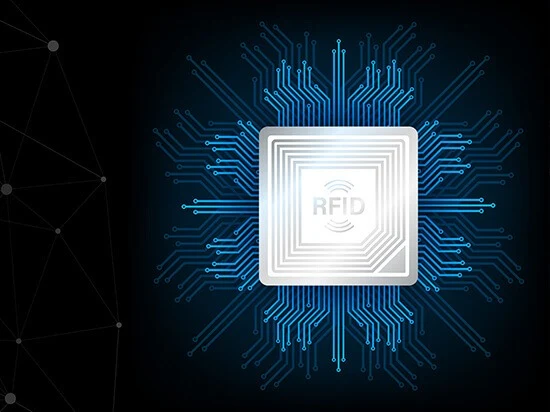 Your Guide to RFID applications and solutions
RFID, also known as Radio Frequency Identification, is an automatic tracking system composed of a silicon chip and a reader that generates wireless communication. RFID tags may be programmed to receive, record and forward Electronic Product Code (EPC) like object information. Through RFID processes, digital data is encoded into smart labels or tags to be captured by radio wave readers. To better grasp this concept, imagine data from a tag being barcoded by a device to be later used in a database; yet, instead of a barcode tracking software RFID tags can capture data even if the product or object is out of sight.
The RFID radio technology utilizes its object identification capacity for critical operations such as the optimization of logistical applications, supply chain and production processes. Making manufacturing more efficient and productive is a shared goal throughout all industries, not to mention electronics. RFID technology has been designed for this purpose. Radio frequency identification can be used to track products through the product lifecycle, data collection to analyze logistics, and production flow to enhance the manufacturing process.
How do RFID systems work?
Within an RFID system, a reader scatters radio waves. When these waves reach the antenna on the RFID tag, they activate the respective software on silicon chips. The silicon chip loads and scatters the information in radio frequency, resending it to the reader. The reader will then transform this frequency into digital data, through activating the silicon chip software.
Types of RFID Tags and Smart Labels
Passive RFID Tag
Passive RFID tag refers to a tag that does not utilize battery power. Passive tags receive the required power from the reader, which then directs the operation of the silicon chip. The respective information of the tags are situated in the service zone of the reader for the signal to be appropriately transmitted. Passive tags cost relatively lower than active tags; they are more convenient for tracking or for applications that involve reading for shorter distances. Here are some of the most commonly used tags for reference; low frequency (LF) 125–134 KHz, high frequency (HF) 13.56 MHz, ultra high frequency (UHF) 860–960 MHz.
Semi Active Tags
Semi active tags refer to tags that receive the signals sent from the reader like an RFID tag, but get its energy from a peripheral battery. Compared to passive tags, they have a faster response time and can complete reading for longer distances. Here are the most frequently used tags for your reference; 13.56 MHz, ultra intense frequency (UHF) 860–960 MHz.
Active RFID Tag
Active tags are RFID tags that compose the contact with the reader and provide the required power for the operation of the silicon chip. Active tags also have a microchip and antenna, like passive tags, but tend to be larger with greater capacities. Active tags may work for very long distances such as 100 meters. Generally used in high value products or in environments that require monitoring and tracking for long distances. Most commonly used tags are as follows; ultra intense frequency (UHF) 860–960 MHz, 2.45 GHz and super intense frequency (SHF) 5.8 GHz.
RFID Applications
Industries Where RFID Technology is Most Commonly Utilized
Radio frequency identification applies to many industries and tends to perform critical tasks such as asset tracking, inventory management, personnel tracking, ID badging, supply chain management, restricted area access monitoring and counterfeit prevention for industries like the pharmaceutical industry. It is commonly used in aerospace, defense, medical, industrial IoT, maintenance, and manufacturing sectors. To better understand what kind of solutions the RFID technology can offer, check out the solution range of Wipelot RFID solutions:
Occupational safety solutions: Lone worker safety, electronic helmet, forklift collision avoidance, social distancing & tracking
Wireless measurement solutions: gas, dust, humidity, temperature, light sensor, and energy consumption analysis
RFID Tracking solutions: person, equipment, minecar, asset, warehouse, vehicle tracking, and IoT solutions
RFID technology has been used since the second World War, but the demand has spiked significantly in recent years partially due to the US mandates for the Department of Defense. Many applications that used to utilize barcode technologies started transitioning their system into RFID solutions as RFID tags are better equipped to contain more data. Moreover, RFID technologies are not as susceptible to damages and maintenance troubles.
How can I Use RFID Technology?
When utilizing the RFID technology, it is important to develop a strategy and to align the use of the technology with your business initiatives. Know what you are specifically using the RFID technology for, such as reducing production costs, enhancing customer relationships, improving safety standards and optimizing operations. To explore contemporary tools that deliver easily installable RFID solutions, check out Wipelot.