Why is IoT the Future of Industrial Functioning?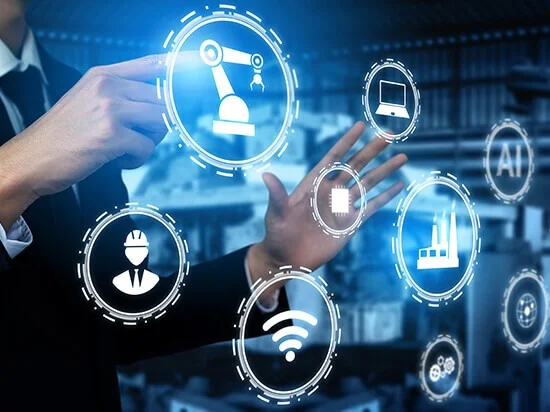 Applications, Benefits, and Challenges of Industrial IoT
As the digital revolution takes over the entire globe, the Internet of Things, also known as IoT, became a hot topic for all sectors; indeed, what was primarily a foreign subject to all professionals is now considered the head of an entire domain of functionalities, the most primary one being the Industrial Internet of Things, or IIoT. Approximately half of the global IoT spending is conducted on industry related utilities, transportation purposes and discrete manufacturing. IIoT typically refers to the industrial application of devices such as instrumentation and connected sensors to different types of machinery and processes. As the global industrial IoT market rises above 900 billion dollars, more and more companies turn to IoT solutions for business initiatives or enhancing and optimizing their operations.
As IoT and cloud solutions keep boosting and scaling companies that choose to employ it, a greater margin of industries will turn to such solutions; these include energy, transportation, oil and gas, manufacturing, healthcare, agriculture, and more. IoT solutions not only help induce growth for these sectors, but actually reinvent them to transform means of production, efficiency, and even the amount of global economic output. In fact, IIoT is expected to drive around 14.2 billion dollars of economic gain by 2030, extending to two thirds of the world's economic output.
Outlook on to the IoT Industries and IIoT Benefits
Data by the IDC reveal that IoT is most prominently utilized in manufacturing, accounting for over two thirds of the entire sector's spending. What are some business applications of IoT in the manufacturing industry that can assist in essential domains such as asset management, field services and more?
Production Visibility
A key necessity of the manufacturing industry is the close tracking of relevant machinery, tools and sensors for enhanced production visibility and swift operation by process engineers. RFID solutions help manufacturers track industrial objects in assemblies in real time. Through these sensors managers can enhance performance by altering machine production schemes and track analytics. This also allows task distribution and schedules to be optimized for typical employee performance, problem causes to be identified more quickly and an educated solution to be created.
Enhance productivity
Industrial IoT allows for boosts in manufacturing workforce productivity. For instance, IIoT allows for operators to track workflows in a quicker manner to reduce the allocated time of cycles. One must also consider IIoT enabled tools that include torque drivers and their functionality that allows for automatic adjustment of settings according to operational incentive to speed up processes.
Faster development cycles
Process engineers, manufacturing and quality engineers also benefit from IIoT as these solutions allow for what used to be manual to be automated. For instance, data that is traditionally manually collected, aggregated and analyzed can automatically be collected in no time.
Provide better price/performance for quality management systems
IIoT allows for reduction of costs associated with implementing and maintaining quality management systems, through automating and streamlining the control plan of the process. Manufacturers have the opportunity to survey the sensors and check metrics like quality, consequently allocating fewer resources to these initiatives.
Continuous monitoring for quality improvement
Environmental sensors come with the added benefit of continuous monitoring of environmental conditions and alert systems when certain thresholds in quality are crossed. Consider a pharmaceutical company where the temperature reaches a critical limit. IoT tools can monitor such temperature and humidity conditions, so that managers can assess these variables, be alerted and take precautionary safety measures to ensure optimum health and performance.
Machine Utility Enhancement
When you connect machines to the internet you can easily monitor machine performance and track necessary KPIs relevant to equipment effectiveness, process effectiveness, and more. Through this, managers are better equipped to identify what may be causing downtime, or even predict equipment failure to reduce potential additional costs.
Managing the Operational Environment and Facility Better
To reduce potential operational costs in industrial settings, sensors such as RFID tags, can be utilized to collect insights into the usage patterns and come to conclusions in operational strategies to conserve energy, increase efficiency and conserve energy. As mentioned above, these sensors can also be used to ensure facility safety by monitoring temperature, humidity, space usage, and more.
Optimizing the supply chain
IoT solutions can allow access to real time data regarding inputs, products and equipment through sensors such as RFID tags, granting managers visibility into inventory operation and real-time timelines in material availability, worker schedules, progress and so on. Through this manufacturers can better manage the supply chain operations, track interdependencies, map out material flows, track manufacturing cycle times and predict potential issues.
Today, many manufacturers lack the necessary IoT skills to update their infrastructure and fail mostly in the ROI stage. It is recommended that companies search for IoT platforms and applications that can allow them to comprehensively tackle this transition. It may be wise to start small and scale up as you start seeing traction and return on your investment.
Industrial IoT such as smart sensors and softwares, can help you ensure more affordable, efficient and manageable processes, where you can predict and prevent potential failures. As outlined above here are some advantages your business will likely experience by adopting IIoT solutions:
Better facility and inventory management
Increased safety in industrial operation and protection of assets
Optimized logistics and supply chain operations
Smart meters in monitoring resource consumption
Effective accumulation of predictive knowledge to reduce downtime and additional costs
What are some IIoT Challenges to Watch out For?
While the benefits are many, perhaps the most key challenge that comes with IoT solutions is their adoption. Finding a good place to start and choosing the optimum automation processes that will benefit the business most is a difficult process. Further, proper adoption of such solutions is severely limited with respect to geographic location given that only a certain number of countries provide the right technology. Without the appropriate infrastructural network, adoption becomes extremely demanding. Other factors that stand i the way of widespread IoT adoption are:
security vulnerabilities when a properly encrypted network is lacking or in the case of data leaks
Lack of IoT standards and protocols
The burdening cost of implementing IIoT solutions without a clear ROI
Explore Wipelot for industrial IoT and RTLS solutions for various industries, and see what items from their product range may be the right one for you.