RTLS-Based Task Management Optimization in Mining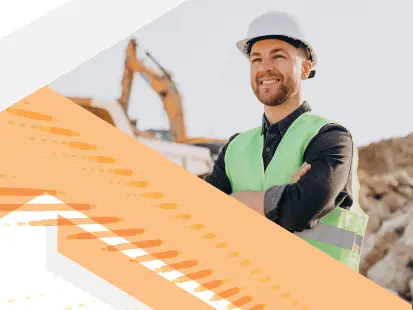 Objective:
DIGITIZATION OF TASK MANAGEMENT TO ENHANCE WORKPLACE SAFETY AND OPERATIONAL EFFICIENCY.
Our client is one of the leading mining companies in Turkey, with over 40 active facilities and approximately 3000 employees. The client's expectation from the project is to digitize the challenges encountered in mining facility operations to improve personnel, equipment, and process efficiency while ensuring workplace safety. In line with this, the project aims to achieve business processes, maximize efficiency, and enable more effective operations.
Number Of Assets
700 anchors
200 motorized equipment
150 tablets
Key Challenges Faced at the Facility:
Inadequate Task Management Tracking: The lack of proper monitoring and tracking of task management in the ore extraction operations results in measurement and efficiency losses, such as disorganized workflow.
Communication Deficiencies: Using radio communication in the ore extraction process leads to deficiencies in information regarding the location of equipment and personnel, causing delays in ensuring safety and reducing efficiency.
Manual Control Processes: The manual execution of safety checks hinders efficiency by causing delays in starting operations and reducing overall productivity.
Unsatisfactory Conditions for Task Initiation: If the required criteria for equipment readiness are not met during the pre-task checks, additional processes like equipment repairs or redirection may be necessary. This complexity in the workflow leads to time wastage and hampers efficiency.
Expected Outputs:
Digitalization of safety procedures
Real-time reporting of equipment malfunctions through the system
Tracking of the work process in terms of personnel, equipment, and time
Development of an alternative communication method to replace the radio system
Ensuring traceability and enabling instant monitoring and guidance from central control.
Solution:
The Wipelot Project Team developed a solution for tracking equipment and managing tasks in ore extraction. The operation in the field was analyzed, and the usage time and workflow of the equipment were determined. Thanks to the Wipelot Real-Time Location System, personnel and equipment could be tracked with sub-meter precision in the field. Tasks were assigned to equipment through the central software and matched with the tracked personnel.
Control and traceability were ensured by sending tasks from the center to the field via RF Mesh Network and Wi-Fi communication. Conditions for task initiation were established, and notifications were sent to the center of any deviations occurred. Task and checklist information was displayed only on equipment to avoid information overload. Each task step was documented for planning and monitoring at the center. Finally, the tablet software's instant chat feature provided an alternative communication method to replace the radios.
Gains
Efficient Personnel/Equipment Allocation: Minimizing Time Loss in Work Cycles
Digitized Forms: Time Savings through Digitalization
Measurable Equipment Performance: Enhanced Performance Tracking
Personnel Tracking and Performance Measurement: Improving Efficiency
Realistic Planning: Data-Driven Decision Making
Cost Reduction and Time Saving: Streamlined Operations
Alternative Communication Method: Beyond Traditional Radios
Digitization of Manual Operations: Enhancing Workflow
Improved Emergency Response Times: Swift Action in Critical Situations
Fuel and Time Savings: Optimizing Resource Utilization
Performance Measurement: Evaluating Equipment and Personnel
Increased Work Output: Maximizing Productivity
Strengthened Occupational Safety Measures: Digitized Checklists for Enhanced Safety
Integrated Field Tracking: SAP and PI Integration for Comprehensive Monitoring
Minimized Shift Handover Time: Seamless transition between shifts
With this solution, a 3.9% increase in efficiency was achieved within the specific facility, while an overall efficiency improvement of 2% was attained across the facilities. Wipelot has been honored with multiple awards both domestically and internationally in the fields of RFID and innovation for successfully implementing this project.
Why Choose Wipelot RTLS Technology?
Since its establishment, Wipelot has been focused on developing efficiency and safety solutions for the workplace. For more than 16 years, we have been helping companies protect their employees with the solutions we have offered, and we are continuing to improve our technology with the experience we gain in the field.
Wipelot is a member of Omlox, UWB Alliance, and FiRa Consortium, which brings together technology companies that produce 100% of their own hardware and software systems and develop solutions with ultra-wideband technology (UWB), and has been listed among the fastest growing technology companies of TOBB 100 and Deloitte Technology Fast 50, and has received many awards in the field of industrial IoT in Turkey and abroad thanks to its projects.